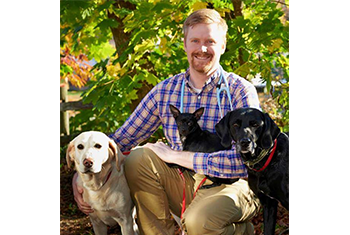 Dr. Dan
Doctor
Dr. Dan grew up in Cheshire, CT and graduated in 2004 from the University of Bridgeport. He received his DVM from The Veterinary College of Mississippi State University in 2008. Upon graduating, he practiced emergency medicine at a 24 hour ER clinic in the Poconos. In 2014 he moved back to Connecticut and became Medical Director of Naugatuck Veterinary Hospital. He purchased Farmington Animal Hospital in late April of 2017.
Dr. Dan is Fear Free certified and plans for the whole hospital to be fear free certified.
Dr. Galbo
Doctor
Dr. Deidre Galbo grew up in Newtown, CT and graduated from Stonehill College. She received her DVM from Purdue University in 1999. Dr. Galbo completed a Small Animal Medicine and Surgery Internship from Friendship Hospital for Animals in Washington D.C. She spent 8 years as senior clinician at Angell Memorial Animal Hospital: WNE followed by 14 years at Veterinary Specialists of CT. She is a member of the American Academy of Veterinary Dermatology. She was the recipient of the G. Edward Cummings Compassionate Care Award. In her spare time, Dr. Galbo enjoys spending time with her family, her therapy Labrador Neon, 3 kitties and her farm sanctuary friends. She is also very involved in facilitating mindfulness to help her colleagues and others live in the moment.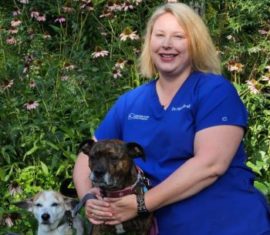 Dr. Woodrell
Doctor
Dr. Grace Woodrell graduated from Mississippi State University College of Veterinary Medicine in 2007. She is especially interested in geriatric medicine, pain management and enhancing the human animal bond. She is also Fear Free Certified. She has lived all over the southeast but recently moved to the area with her 6 rescue "kiddos" (3 dogs and 3 cats) to be closer to family. She is looking forward to exploring the area and getting to know you and your fur family.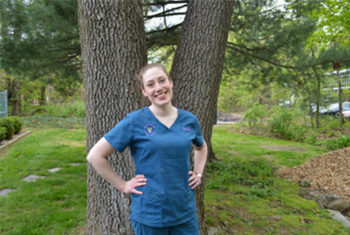 Samantha, CVT
Nurse
Samantha has been with Farmington Animal Hospital for three years. She graduated and earned her certification in 2016 but has been working with animals since 2012. She shares her home with a German Shepherd Sara, a nutty cat named Mia, and two rats named Douglas and Maxwell who enjoy a home cooked meal of scrambled eggs every morning. Samantha says that what she most enjoys about being a pet nurse is being able to be a part of an animal's well being. When she is not at work, Samantha enjoys reading, learning new things, and playing video games.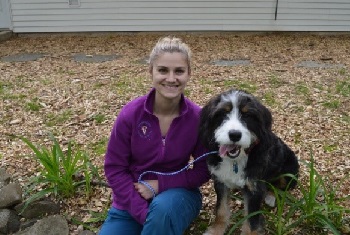 Michelle
Nurse
Michelle has been working for the hospital for since 2012. She graduated with a B.S. in Biology from CCSU. She loves being involved with dentistries and radiographs. At home she has two dogs (Moose, a Berndoodle and Lucy, a maltipoo) and two guinea pigs (Bert and Ernie). In her free time she enjoys kayaking and crocheting.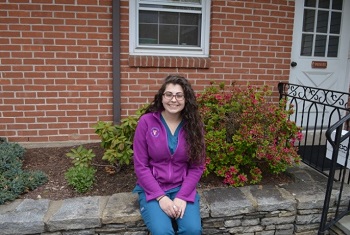 Melissa
Nurse
Melissa graduated from the University of Connecticut in 2014 with a Bachelors of Science in Animal Science. She has been with Farmington Animal Hospital since September of 2015. Melissa has two cats, an orange tabby named Mr. Friendly and a grey female named Bardok, as well as a love bird named Rainbow (which she has had since 6th grade!), and a Beagle mix named Andy who lives with her dad. Melissa enjoys bike riding on her spare time as well as scrapbooking/collage making. At work Melissa loves to perform dental cleanings and monitor during surgical procedures.
Jennifer
Staff
Jennifer started at the clinic over two years ago and is currently an undergraduate student at UConn studying animal science. She hopes to one day become a veterinarian focusing on marine wildlife. She has two cats, Titan and Athena, two leopard geckos, Charizard and Spyro, and as she says, a LOT of fish. When Jen isn't working she enjoys a variety of outdoor activities, including scuba diving, fishing, hiking, hunting, and traveling.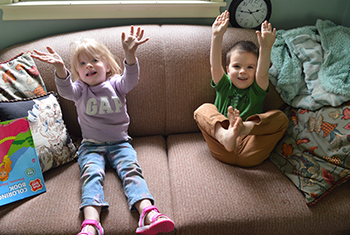 Cora and Emmett
Staff
These are our resident toddlers and clinic cheerleaders and Dr. Dan's biggest fans. You may see them poking about from time to time. Their favorite activities are playing in sand boxes, making unreasonable demands, and not napping when needed. They have three pets, a Chihuahua named Pip, a Yellow Lab named Peach, and a younger brother named Garrett.